A Vibrant Art Hotel in Santa Barbara, California
Stay where the action is at our art hotel in Santa Barbara, California just steps from the Funk Zone, dynamic restaurants, the Amtrak train station, and the waterfront. Hotel Indigo Santa Barbara is designed for the traveler on the go, placing our guests a step ahead of the rest. Easily transition from morning meetings to afternoon hikes to evening concerts and patio dinners. Our European-style hotel in Santa Barbara also offers complimentary bike rentals, with additional perks for car-free travelers and a premier location that provides guests with an easy route for where they want to go.
Onsite parking is limited. Hotel is two stories with staircases only, no elevator. Safety improvements at the public rail crossing at State Street, just north of the hotel at Yanonali Street. Union Pacific Railroad Company is installing self-closing pedestrian swing gates, detectable warning tiles on all sidewalk approaches, and other necessary upgrades. Monday through Friday 7 am – 4 pm.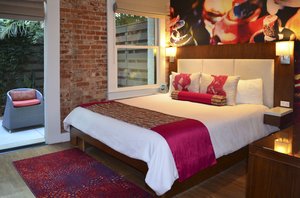 A Contemporary Choice
Hotel Indigo Santa Barbara offers a breath of fresh air compared to more traditional hotels. Discover our on-site award-winning restaurant, Santo Mezcal, or gather in our open-air lounges with a book and glass of wine.
Our intimate hotel has 41 micro guest rooms, complete with premium linens and European-style wet bathrooms. In addition to free Wi-Fi, a host of convenient amenities complement your stay.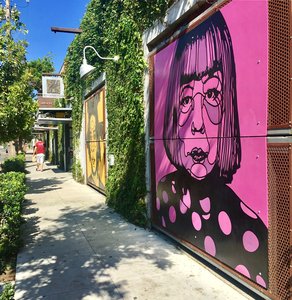 An Authentic Local Experience
Immerse yourself in our city bursting with small-town charm while staying at our Santa Barbara hotel dotted with thought-provoking art works. Discover your pink moment sunset backdrop, surf under sunny skies, or spend a day in the Funk Zone, an industrial warehouse district of boutiques, trendy restaurants, and local art galleries.
It's easy to travel like an explorer with all the best parts of Santa Barbara right at your fingertips.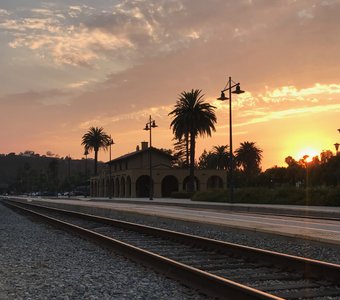 Why Choose Us?
Stay just steps from the Amtrak station to further explore the area. (Please note that due to our close proximity to the station, sounds of the trains may be heard throughout the hotel.)
Bring along your cat and dog to stay in our pet-friendly accommodations.
Enjoy a more personalized experience at our compact art hotel with 41 micro rooms.
Pair your stay with our car-free travel package, wine tasting discounts, and more deals!
We're a guest-centered hotel and love offering recommendations for local attractions and trending restaurants.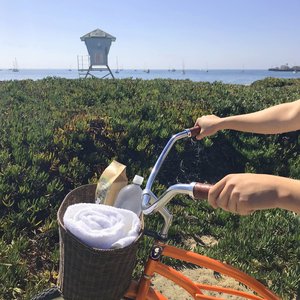 Car-Free Travel Package
Leave your car keys at home, and reserve your car-free travel package to enjoy all the benefits of staying with us car-free! Our art hotel is tucked in the midst of the Funk Zone, a hip and trendy area that demands to be seen on foot or by bike. As soon as you step outside, you'll be surrounded by restaurant patios, boutique shops, and warm California air. Take one of our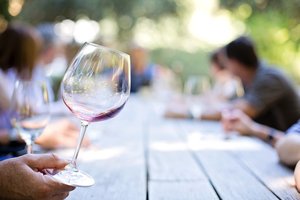 Wine Tasting Discounts
Discover the Urban Wine Trail, one of Santa Barbara's most popular attractions and one of our favorite activities to recommend to guests. There are 8-10 tasting rooms within blocks of Hotel Indigo Santa Barbara. Enjoy the leisurely walk through the eclectic Funk Zone, a refurbished warehouse district with bright murals, where wine tasting offerings abound.  Novices an
2019 Take the Train Special
Book the "Take the Train Special, arrive in Santa Barbara on Amtrak, present your ticket at check-in, and we will reward you with 20% off your room rate during your Sunday-Thursday stay; this promotion is not valid on Fridays and Saturdays year round, and the entire months of July and August.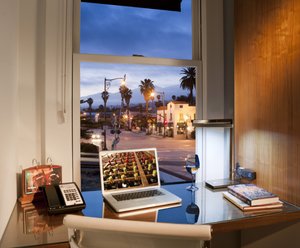 Local Businesses
Stay just steps from the Amtrak station and within minutes of nearby employers, such as:
Cox Enterprises
Exxon Mobile
Google
Raytheon
Deckers
Bank of America
Atlantic Aviation
Tesla
Sonos
LogicMonitor
Santa Barbara International Film Festival
University of California, Santa Barbara (UCSB)

Westmont College
Santa Barbara City College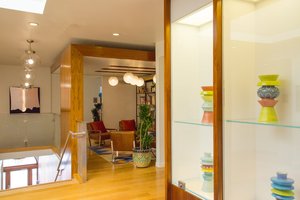 Sophisticated and Streamlined
Don't overpay for extra amenities when today's modern travelers are more interested in the local experience. Included in your reservation is access to our open-air lounges, fitness studio, and 24-hour business center.
Elevate your stay with our exclusive packages for car-free travelers and savings for the Urban Wine Trail. Book today for a new kind of guest experience at our art-infused and car-free hotel in Santa Barbara, California!
Call 1 866 2 INDIGO (1-805-966-6586).
Visit us at Hotel Indigo Santa Barbara.