Our Art Gallery realized in partnership with the Carolyn Glasoe Bailey Foundation
Inspired by surrounding galleries and studios, Hotel Indigo Santa Barbara is infused with an artist's spirit and features an art gallery with work curated by the Carolyn Glasoe Bailey Foundation and JC Connelly, Inc. With every step is a new discovery, due to the murals and contemporary artwork on display. Choose a micro guest room complete with colorful furnishings, wood finishes, and touches of tile throughout for a curated experience. Featuring modern decor and inspiration from the area's natural scenery, Hotel Indigo Santa Barbara is the ideal choice for stylish travelers.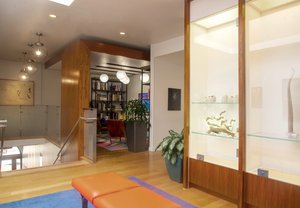 Soak Up Some Culture
Our refreshing reception features a gorgeous mural and artistic videos on the lobby screens. Explore our hotel to see art hung throughout both floors and in our library featuring art books and artwork from the Carolyn Glasoe Bailey Foundation.
Exhibition Details

Contemporary Art Exhibition in Santa Barbara by New Ojai Based Foundation
Cave Painting, Painted Cave, Carolyn Glasoe Bailey Foundation at the Hotel Indigo Santa Barbara
Viewable in person by guests
Viewable online at The Ojai Institute: Cave Painting, Painted Cave

Artists Included: Alison Andersson, Porfirio Gutiérrez, Cole M James, Linda Karshan, Deborah Kerner, Muna Malik, Yassi Mazandi, P.Lyn, Tom Pazderka, Cole Sternberg, and Richard Waxberg; Additional works are on loan from the Carolyn Glasoe Bailey Foundation Collection by Bob Branaman and Sharon Louden.


Artists have looked to the enigmatic world of cave paintings for centuries, and perhaps even more so during times of fear and doubt. This exhibition explores the inherently human need to make marks, share knowledge and community, and look to the past for answers about our current realities. We are working with the assumption that Modernism owes a huge debt to non-western and indigenous cultures and the works in this exhibition celebrate mark making and gesture through a raw yet highly sophisticated use of material and form. In no way does this attempt to depict, replicate, or pastiche the past, but imagines an aesthetic exploration that draws threads of thought and inspiration through personal vocabularies of marks and signs. This is an attempt to underline art making as multi-generational knowledge of land, flora, fauna, and cosmology that unites us as humans around the world.
In deciding to produce this exhibition the desire was also to draw attention to our own regional connection to the vast global network of cave painting. Alaxuluxen, the Chumash name for the Chumash Painted Cave State Historic Park is situated on the edge of the traditional Barbareño Chumash territory, which ranged from the Pacific coast to the foothills and southern slopes of the Santa Ynez Mountains. With a population of over 15,000 before European contact, the Barbareño Chumash were one of the largest and most influential tribes in California. Santa Barbara, at the base of the Santa Ynez Mountains, was the capital city of the Barbareño, then called Syukhtun.
For complete information regarding this exhibition and to view it online in its entirety, please visit Cave Painting, Painted Cave @ The Ojai Institute.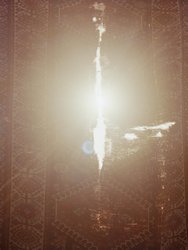 Past Exhibitions

August 1, 2019 – February 1, 2020 - XANADU featuring artists Cassandria Blackmore, Matthew Brannon, Paul Demuro, Cameron Gainer, Gary Lang, Ruth Pastine, Enoc Perez, Aaron Spangler, Wolfgang Tillmans, Beatrice Wood, Russell Young
December 6, 2018 – May 5, 2019 - Surreal By Nature featuring artists Kelly Akashi, Matthew Barney, Petra Cortright, Rob Fischer, Penelope Gottlieb, Cole M James, Miranda Lichtenstein, Yassi Mazandi, David Rathman, Monica Reede, Ry Rocklen, Peter Rostovsky, Melanie Schiff, Lisa Schulte, Alec Soth, Kevin Sudeith, Marc Swanson, and Charlotta Westergren.
About Carolyn Glasoe Bailey Study Collection
The core of the Carolyn Glasoe Bailey Foundation is a collection of sculpture, painting, photography, works on paper, and editions inherited from the private collection of Carolyn Glasoe Bailey. Works included represent many of the artists she championed throughout her career, as well as gifts by artists and supporters of the foundation in order to augment the collection in representative ways. The Carolyn Glasoe Bailey Study Collection is intended to be available for public exhibition, with works loaned to education and health-focused institutions throughout the Tri-County region.
Foundation History
Based in Ojai, California, the Carolyn Glasoe Bailey Foundation's mission is to support the arts and educate the public on supporting emerging artists.
Carolyn Glasoe Bailey Foundation, a non-profit 501(c)(3) organization, was founded in 2015 by artists, family, and friends to celebrate the legacy of esteemed art patron and private art dealer Carolyn Glasoe Bailey. Currently based in Ojai, California, the organization is committed to supporting the arts and sciences, and educating the public about the importance of continuing support for the arts and sciences. Current initiatives include unrestricted cash grants for artists, funding for education initiatives, as well as a residency program in Ojai, consisting of a series of exhibition projects, public programs, and a podcast conversation series available on iTunes.
Carolyn served as the Museum of Contemporary Art Santa Barbara's Board President for many years, and we are ecstatic to have her foundation's support through our partnership and gallery in our hotel. Join us in our alternative art space at our contemporary hotel!