Museum of Contemporary Art Santa Barbara
One of our hotel's greatest influences and past partners, the Museum of Contemporary Art in Santa Barbara is one of our favorite places to visit for art inspiration and education. Hotel Indigo Santa Barbara previously housed the MCASB Satellite museum, curated by the Museum of Contemporary Art Santa Barbara. A community cornerstone, the MCASB Satellite museum provided year-long exhibitions of thought-provoking contemporary artworks.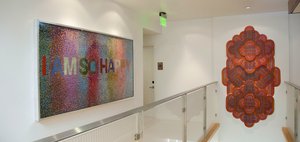 Past Exhibitions
*work by Kirsten Stoltman and Stephanie Dotson from our first MCASB Exhibition.

Since 2012, we hosted five exhibitions at Hotel Indigo Santa Barbara.
Andy Coolquitt: …i need a hole in my head, a collection of installations on the relationships between the private and public, art, its viewing context, and the human body. (2017)
Shift, Stretch, Expand: Everyday Transformations, which featured nine Santa Barbara County artists exploring the quiet and inconspicuous operations of everyday existence. (2016)
Magic Mountain, which showcased nature's bewitching properties that inspire travelers, and elevate humankind's relationship to the environment. (2015)
The Vastness is Bearable contemplated the vast cosmos and human fascination with the universe. (2014)
Limuw: An Ode to the Sea shared about our passionate relationship to the natural world and its quiet, contemplative, and brash tempestuous ways. (2013)
Open House began our satellite space and showcased a constellation of MCASB's highlights over the past ten years. (2012)
MCA Santa Barbara is located downtown at Paseo Nuevo's Upper Arts Terrace, 653 Paseo Nuevo, Santa Barbara, CA 93101.