Health & Safety During COVID-19

Our hotel is strictly adhering to guidelines as well as maintaining our high standards of cleanliness while putting in extra attention to all aspects of the hotel that contribute to the health and safety of our guests and employees. Additionally, as an IHG® hotel, we take part in the IHG® Way of Clean program, which has been expanded to respond to the changing cleanliness protocols of the present. We are certified by the California Hotel and Lodging Association's Clean and Safe program. Below, you can find an abridged list of our protocols.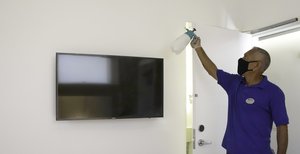 The Hotel Indigo® Santa Barbara's guests and dedicated team members' safety and well-being come first, therefore our hotel rigorously follows CDC, County, and State guidelines for combating the spread of the COVID-19 virus.
Including the expanded IHG Way of Clean® program, our team members are trained extensively on the most current, proper procedures for cleaning and disinfecting all areas of the hotel, such as the guest rooms, common areas, and high-touch-point surfaces.
We've instituted guest-only entry, which curtails public access and allows only our guests to enter the hotel with their keycards and team members.
A hand sanitizing and protective-glove station at our entrance and complimentary masks, located at the front desk, are available for guests throughout their stay.
New signage where applicable as well as floor markings at 6-foot increments in our lobby assist guests with navigating COVID-19 city-required guidelines during their stay.
Prior to starting each shift, we check each team member's temperature and health; once cleared, all team members wear appropriate PPE equipment while working, and our Front Desk features a protective Plexiglass barrier.
Should you have any questions about our complete cleaning procedures, please ask.