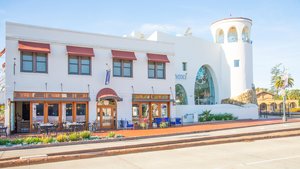 Hotel Deals in Santa Barbara, California
Choose a more contemporary and affordable option with our hotel deals in Santa Barbara here at Hotel Indigo. Instead of more traditional hotels, discover a new guest experience at our art hotel in the midst of the Funk Zone. Our micro guest rooms are streamlined with the amenities our guests need and none of the additional costs. Take this opportunity to save with our Santa Barbara hotel deals and embrace the local lifestyle.
The Local Lifestyle
Elevate your stay in the Funk Zone with our exclusive Santa Barbara hotel packages, such as IHG Rewards Bonus Points and Breakfast at Santo Mezcal. With our excellent location near the waterfront, the Amtrak station, and dynamic nightlife, we offer exclusive car-free perks such as extended time with our on-site bike rental. Embrace the warm weather and explore the area by bike!
As an active member of the arts community, we're happy to support SBIFF and local festivals. Visit MOXI next door for play-filled selfie experiences, try a variety of local wine tasting rooms, or spend your afternoon in the Funk Zone. Discover all of our favorite things to do within walking distance while saving with our hotel deals in Santa Barbara.
Book your stay with one of our exclusive packages and hotel deals in Santa Barbara, California. Choose the best rate and a prime downtown location in the Funk Zone during your relaxing getaway or business trip.